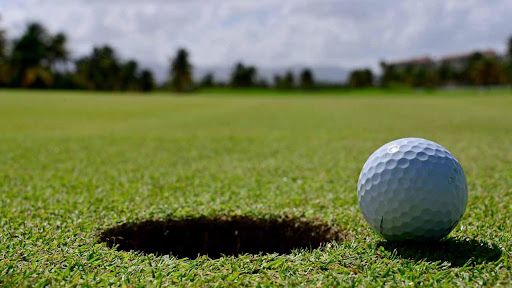 Pot-O-Gold Ball Drop
POT O' GOLD '50/50' OPPORTUNITY
50% OF ALL PROCEEDS WILL BE AWARDED TO (3) LUCKY WINNERS !!!
1ST PRIZE—70% OF POOL
2ND PRIZE—20% OF POOL
3RD PRIZE—10% OF POOL
WE WILL SELL UP TO 100 TICKETS (AND EXPECT NO FEWER THAN 50 TICKETS TO BE PURCHASED) AT $50 APIECE, FOR OUR 'POT-O-GOLD' GOLF BALL ROLL.  
EACH TICKET PURCHASER WILL BE ASSIGNED AN INDIVIDUAL GOLF BALL, WITH ITS OWN UNIQUE NUMBER.  
ON THE EVENING OF OUR EVENT, FRIDAY MAY 13TH, ALL 'PURCHASED' GOLF BALLS WILL BE ROLLED MANUALLY TOWARD THE 18TH GREEN'S FLAG/HOLE, OFF THE BACK DECK AT POTOWOMUT.  
WHICHEVER THREE ARE 'CLOSEST TO THE PIN' WILL BE OUR DECLARED WINNERS!